About Us
About Us
OceanViewWeather is a private non-commercial weather website, aimed at providing an accurate and local snapshot of weather in the Ocean View area of South East Queensland as well as weather around Australia. The website has grown over the years into a popular fully automated site providing custom generated weather forecasts, weather forecast charts for Australia and Queensland using GFS data, hourly charts of live weather conditions for the whole of Australia, automated reception of JMA weather satellite images direct from the satellites, a live lightning tracker for South East Queensland, a live streaming webcam and a historical database of weather conditions for the local area. For more information on the hardware setup, view the website setup page.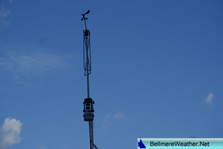 Davis Vantage Pro 2 (Plus) weather station with a fan assisted Stevenson screen.

Disclaimer
Data received from the weather station, lightning detector, JMA satellites, webcam and custom generated forecasts / charts is made as accurately as possible, however as the data is automatically imported 24/7, its accuracy cannot be guaranteed.
Data from the weather station or downloaded from the internet to generate weather forecasts is not quality controlled by me and its accuracy cannot be guaranteed. As a result, please do not make any decisions based on the data on this site.


Media Enquires and Our Data on Your Website
OceanViewWeather is a hobby website and is hosted in AWS and on a small server located in Ocean View. We love to have our data shared so contact us let us know what you are using it for.


Privacy
We do not store any data about your visit, however we do use Google Analytics to generate statistics about how the site is used.


Advertisements
Some pages on OceanViewWeather contain advertisements to help fund the hosting of the site and these advertisements are generated by Google and follow their privacy guidelines. We do not endorse any of the products advertised.


Our Data On Your Website
We love to see people getting more interested in the weather and we are happy for any OceanViewWeather images, charts, forecasts and data to be displayed on your website. All we request is that you include a link back to us and any copyright notices on the images be left in place and the images not cropped to remove them.


Additional Information
All Local weather data, forecasts and lightning data is owned by Ocean ViewWeather and any data downloaded from the internet and used for charts and forecasting is property of the respective owners.